It is time for the annual Edublog Awards!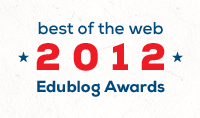 The Edublog Awards have been running since 2004 and showcase some of the most popular blogs in education.
The purpose of the Edublog Awards is to promote and demonstrate the educational values of blogging. This is something we really believe in.
It was very hard for us to narrow down our choices for nominations as we have blogging friends in all corners of the globe.
Here are our nominations
Best Class Blog
We have many blogging friends but Mrs Yollis' class is the first class that Mrs Morris and Miss Jordan's class connected with nearly four years ago. We have developed a very strong friendship and Mrs Yollis' class are always teaching us something new. Mrs Morris even had the chance to visit Mrs Yollis and some of her students and parents earlier this year. 
Most Influential Blog Post
Mrs Yollis came up with the idea of Family Blogging Month a number of years ago. She runs it twice a year as a way for families to become more involved in their child's education. Mrs Morris and Miss Jordan have borrowed her idea many times. We would like to nominate Mrs Yollis' class for most influential blog post because there are now hundreds, if not thousands, of class blogs around the world implementing their idea of Family Blogging Month.
Best Individual Tweeter
Mr Mannell comments on so many of our posts and student blogs. He asks us questions and gets us thinking. Mr Mannell also writes us extended comments on his own blog. Mrs Morris and Miss Jordan met Mr Mannell on Twitter. He is a retired primary school teacher who loves to use Twitter to find and support students and classes around the world.
Best Use of Audio/Video/Visual/Podcast
Our friend Mr Avery is amazing at making videos with his students. He uses green screen technology and other cool features to demonstrate learning. Mr Avery's class is especially talented at making maths videos. What an fantastic way to learn!
Best Library Blog
Mrs Hembree and her students in Seattle create this fabulous blog that links kids to books and web 2.0 tools. Mrs Hembree shares our love of reading and we enjoy seeing what is happening on her blog. Mrs Hembree also comments on the 4KM and 4KJ blog and is always there to give us a reading recommendation.
Lifetime Achievement
Sue Waters works for Edublogs (which is the blogging platform we use). She goes beyond her job description by helping people with blogging at all hours of the day and night. When Mrs Morris or Miss Jordan have a blogging question, Sue is always there to give them advice and suggestions. She is a real blogging guru who has a passion for helping others. 
Best New Blog
Mrs Murphy and her grade 3/4 students at Pt Lonsdale have just started their blog this year. They are from a school in our area and they like making posts on a variety of topics using a range of web 2.0 tools. They feature a lot of student work/posts and have also been involved in some exciting global projects. 
Now it's your turn
If you have a blog or website and you want to submit your nominations, just visit http://edublogawards.com to find out how. You have until November 26th to nominate. Voting will be begin soon and then there will be an awards ceremony in December.
What do you think of our nominations?
Who would you nominate?